More severe weather is possible today as storms return this afternoon and evening.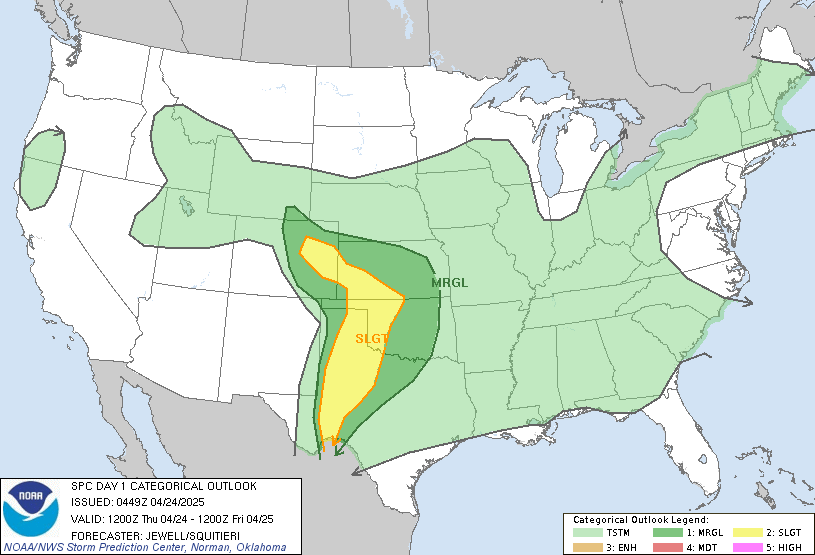 Hail fell across central and southern Indiana Tuesday. There were reports of a small tornado last night in Greene County, one mile southwest of Worthington Indiana, and it did some damage to a barn. That rotating thunderstorm popped up at the intersection of a thunderstorm complex moving in from the west and the scattered storms that had already fired.

A one-day ridge of high pressure Friday, before rain returns this weekend. The most likely time for showers is Saturday afternoon through the first part of Sunday. Another inch of rain is possible.

PAUL'S PREVIOUS PREDICTION
Yesterday's high was 82. My forecast was 79.
INDY ALMANAC
The average high today is 67 and the average low is 47. Records are 84 and 30. The sun rises at 6:50am and it sets at 8:36pm.
INDY SEVEN DAY FORECAST
Today: Cooler. Mainly afternoon showers & storms. High 65.
  
Tonight: Showers likely. Chance of storms. Low 56.
Thursday: Chance of showers and storms. High 74.
Thursday Night: Slight chance of showers and storms. Low 51.
Friday: Partly sunny. High 70.
Friday Night: Partly cloudy. Low 50.
  
Saturday: Mostly cloudy, with a chance of mainly afternoon showers. High 68.
  
Saturday Night: Showers likely. Low 56.
  
Sunday: Rain likely, with a chance of storms. High 70.
  
Sunday Night: Chance of showers. Low 54.
  
Monday: Mostly cloudy. Chance of mainly morning showers. High 68.
Monday Night: Partly cloudy. Low 48.
Tuesday: Partly cloudy. High 64.